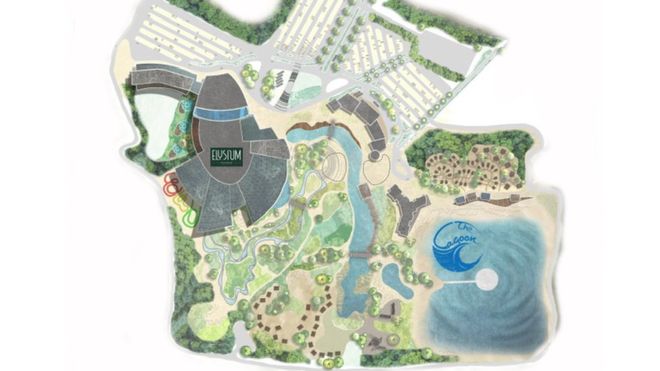 Plans for a new wavepool park in Bournemouth have been revealed. The Lagoon Project aims to be a 15 acre park with a 145 bedroom hotel and glamping site with wave machine capable of 2,400 wave per hour.
Matt Radford, from The Lagoon Project, said: "This will be a destination for every family member to participate in the watersports as well as inland activities."
BCP Council director Bill Cotton said: "The Lagoon fits in with the coastal watersports lifestyle of the area, and would be an all-year round attraction."Building work on the complex, which could include a 145-bedroom hotel and glamping site, is expected to start later this year with an opening date of summer 2022.
The Lagoon will be based upon a beach shack style, which will be both authentic and attractive, with ocean inspired décor. With a grass roof for the main building, solar panels and rainwater harvesters the site is planned to be energy-neutral for an environmentally friendly solution.
The people behind this ambitious project are Matt Radford, Founder and MD, who teamed up with Director Martin Spooner to create a fast-moving development company. The visionary duo have also employed an impressive team of local consultants with combined experience managing sites such as Legoland, Longleat, Merlin Entertainments. 
Matt commented: 'This has been a dream of mine for years, ever since I wanted to teach my kids to surf in a safe and controlled environment. Here we are two years later, and my dream is stepping ever closer to becoming a reality.'
Martin added: 'We have just hosted our first private pitch event to attract seed capital, and update interested parties, which turned out to be an incredible night for The Lagoon. We are seeking additional founder investors who would like to join us on the journey and a cornerstone investor at this exciting early development stage. Ideally a local entrepreneur from the sports, leisure or hospitality industries.'
An all year round indoor and outdoor attraction, The Lagoon will offer a range of indoor activities from rock climbing to abseiling as well as five different wave areas to cater for everyone from absolute beginners to pros all at the same time. The Lagoon will also offer a tranquil environment with an offering of mixed accommodation styles from a contemporary 145-bedroom hotel to tree houses, woodland lodges, glamping pods and 'hobbit' huts. The eco-conscious development will bring a significant number of tourists into the area, create considerable employment and will also supply an important all-weather destination for the local community, holidaymakers and tourists alike. 
Bournemouth has a large surfing population and a strong surf club – Wessex Surf Club. The area regularly produced top British surfers – Dave Weight, Guy Penwarden, Derek Deer, Nick Castle, Tony Butt, Lee Hammond, Si Furley, Terry Crump and more recently Mile Lee Hargraves as well as internationally renowned playboy surf photographer and surfboard collector Gary Knight.
More news as it breaks…
• See what I did there…