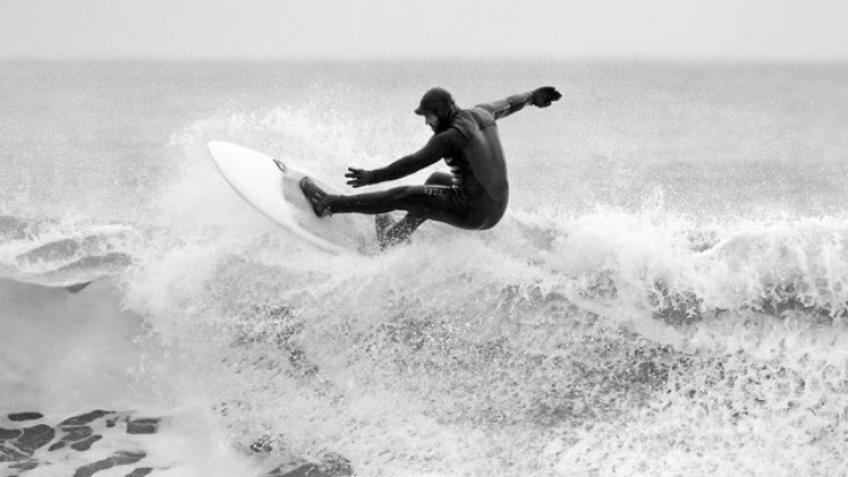 A Crowdfunder has been launched for a Dorset surfer who is being divorced for night surfing. Friends say Karl, originally from NZ, ended up in the UK, and met the girl of his dreams, but when he rediscovered surfing (after a bad neck injury) and then started night surfing, he got kicked out of home.
'Geordie Surfer' who launched the appeal said,
"He hadn't surfed since leaving NZ and was pretty confident that his neck was strong again… So we chucked him a wettie, got him hooked up with a board and got him out in the water. It wasn't long before the dude was ripping. Super flow and a good powerful style! Once again he was hooked. The main problem being is that he simply didn't have time to surf. With work, family, farm and home commitments he was adamant that he would not be able to find the time to surf.
"However, he was completely unaware that there was a small crew of us that had invested in some lithium powered portable floodlights, head torches and a crazy plan to surf at night. Not only could he escape the usual Bournemouth Pier crowds, he could also surf when his girls were in bed and it was too dark to work! It made so much sense! So there it is, when the swell came about we would all meet up between 10pm and midnight, set our lights up on the pier and head out for a surf! We would have a ball and it was all harmless. I mean we would only do this on decent days, days that were worth while. At least 3ft and it had to be reasonably clean. In reality we would surf at night a couple of times a month during the winter season where we receive a bit more Swell on the south coast of the UK."
"But his wife could not stand that he had a passion outside of the family life. After over 10 years of devoting everything to his family and had found something for himself, something he wanted to pursue and a child hood passion that he had rediscovered, SURFING… "
Very long story short Karl got kicked out..
"…his wife was adamant that this was it and it was surfing or them!"
Then solicitors got involved and
"To Karl's surprise his ex had already set up legal proceedings and had already sanctioned a lawyer to oversee everything, basically trying to screw him over and lay the entire financial cost of the divorce on his shoulders. Not only trying to retain all family assets (home and possessions) he is facing the possibility of having to settle divorce costs and accumulated legal fees of what will be approx £6,000. This basically means taking out a loan to cover these costs (as if he hasn't got enough to deal with)."
"But, and I mean BUT. The biggest surprise was still to come. When the divorce papers were received, the reason cited for divorce was his 'obsession' for SURFING. Just to take extract the urine and to be specific, night surfing. Now I know when we surfed at night as I keep the lights. We are literally talking a couple times a month at the very maximum. Now, I know how this sounds and how hard this is to believe, so read the citation yourself below. This is for real! Actually filing for divorce and stating the reason as prioritising his hobbie (surfing) and his obsession for night surfing. So 12 years or marriage gone to pot because Karl rediscovered his childhood passion of surifng over the last two years."
The Citation (proof not check by us) here is pretty damning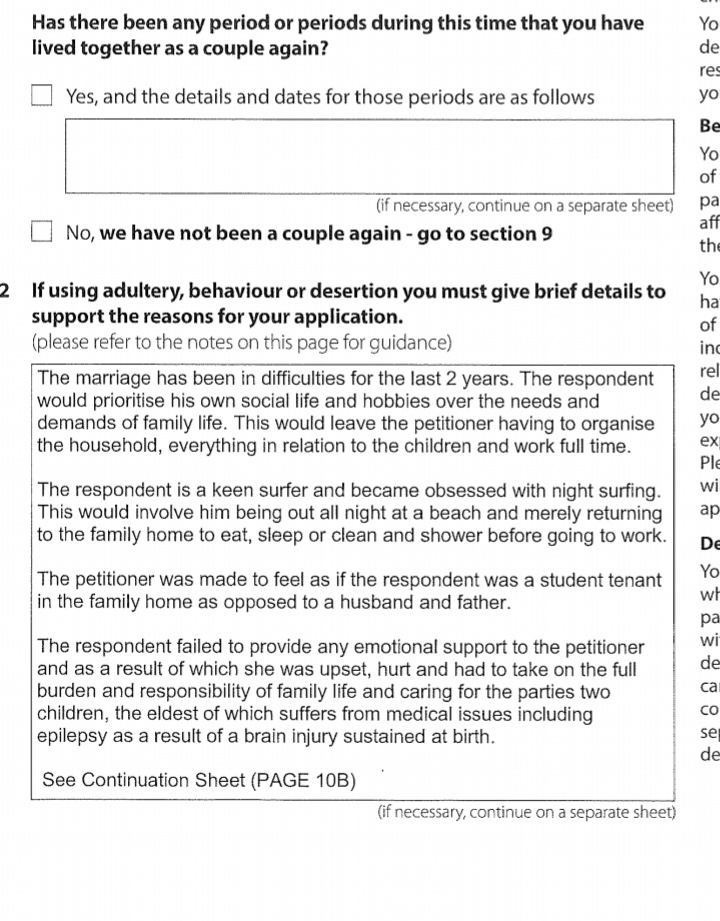 The funding story ends with
"At the end of the day, we all derserve a wave, we all deserve to enjoy our passion and we all should be able to have a surf when it's pumping. In fact, we deserve to surf even on the days it's no pumping. Surfing is a way of blowing of steam, recharging the batteries and washing off the dirt! A good friend of mine once said that life leaves dirty spots on us, after we surf the spots are gone, they wash off! Let's all try to help Karl wash off some the spots that have been left on him and get him surifng as much as he wants!
Thank you for taking the time to read this! After all, we are just helping a bro out!"
At time of publishing I have no idea if this is all legit, but if you got this far it's probably worth a couple of quid!
You can donate here
.
.
.
.