[metaslider id=27883]
Getting some art on your stick is cool and really easy. You can customise new or old boards but you need to prep an old stick more to make sure there's no wax residue. The main thing is being prepared. Know what design you're going to do. Have the right Boardstix pens and equipment to hand before you wade in.
Boardstix paint pens were created by surfers for surfers who want to explore ways to make their signature on the world, to express they are, ad paint their surfboards. They come in a variety of packs and have very quality and a high finish.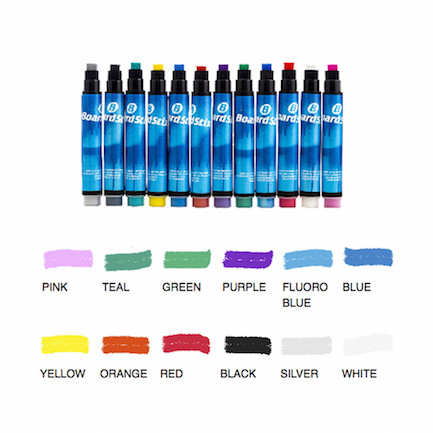 There are three types of Boardstix pens and they come in a wide variety of colours.
The Premium pens are perfect for filling in and have a 5mm tip. The Grip pens have a 3mm tip for fine lines and details. The Broad tip pens have a 5mm and are perfect for quick fills and bold lines.
THINGS YOU NEED:
• Board (derrr!) • An area you can work in and make a mess • White Spirit • Rag • Fine Sanding Paper • Pencil • Eraser (Rubber) • Boardstix paint pens • Masking tape • Lacquer • An idea of the art you want on your board…
HOW TO:


01. Step one is simple. Clean that mofo. If it's a fresh stick then just make sure the factory dust is off and it's clean. A quick wipe with white spirit should sort it out a treat. Old boards do the best wax removal job ever then white spirit or DEWAX.IT to get the sheen of wax off.
02. Key in (lightly sand) the area you want to paint with über-fine sandpaper. This helps the paint stick by giving the board a rough, clean surface.


03. Sketch out your design in soft pencil. Spend all the time you need to make sure it's right.
04. Once happy with the pencil outline make sure you figure out how your artwork will progress and mask areas with masking tape if need be.


05. Use firm strokes to build up your colour. Nail it first time as going back over with paint pens can get ugly.
06. Add more colours and paint the hell out that thing.


07. Nearly there, make sure you're happy with everything.
08. Once happy remove the masking tape if used.

09 Once dry spray a lacquer coat to protect your work. Lacquer also gives a new clean surface to add some fine
detail.
10. Then if you've added anything one last lacquer and you're good to go!