[metaslider id=33750]
As an offshoot of the successful Splinters film tour Alan Stokes, Celine Gehret, Easkey Britton and lucky ticket winner Freddie Holland got invited out to PNG on the trip of lifetime.
I've travelled to all corners searching for nooks and crannies in the coasts of foreign lands. Surfing has taken me far from home. Since the age of thirteen this has been my life. I feel like a kind of gypsy forever travelling and looking for a new wave to ride.
For me travelling to Papua New Guinea has been a highlight of all my accumulated wanderings. It's so remote, so untouched and unmodernised. It's literally a step backwards in time. Tribes deep in the dense jungle covered mountains still live from the land and hunt and gather. Day to day basic survival is the name of the game. There are over 850 different languages in Papua New Guinea … you do
the math.
The south and north coasts of PNG are only connected via plane, there are no roads through the inner mountains, it's a sanctuary protected by nature's own barriers of steep rock and thick jungle which has allowed tribes to live nearly completely unaffected by modern man's pursuits.
Our journey saw us land in the capital of Port Moresby we then boarded a smaller plane and flew the hour or so over the lush green mountains to the north coast. It was apparent very quickly as we circled the coast for landing that this side of PNG was a lot less developed than the coast of its capital. The mountains gave way to palms and beaches only broken every now and then by big rivers that had carved their way through the landscape. I really felt like an explorer. I was so far from home and looking at an environment that was so untouched by man, it really left you feeling very small and insignificant and that I liked.
We were heading for a small village, called Tupira, a couple of hours drive north from the tiny airport we had just landed at. It was a bumpy journey, the roads are not great and the constant rain keeps the locals forever filling pot holes, add the roots of big jungle trees trying to upheave the tarmac and you get sense that the land really is in charge here.
We are greeted at Tupira by locals dressed in tribal grass skirts, their faces are painted and feathers are worn in ornamental crowns, we are given brightly coloured flower and leaf necklaces as rhythmic drums and chanting begins, we are led towards the centre of the village with warm smiles music and dancing.
The music stops and the Chief of the village Patron Justice Nicholas Kirriwom welcomes us. He is a big man with a wise look in his eye and a warm smile. He speaks slowly first in English and then in pigeon to his people. He tells us about Tupira, about the people and a little history about where they had come from, the struggles they face from modernisation, and how as a village community they worked so hard to get to this point. Logging and mining is killing the land in PNG, international agreements allow invested countries to come in profit and leave. The land and its people are left suffering. Tupira however is trying to change all of that, they are trying to give power and responsibility back to their local people, empowering them and educating them so that they have a choice and can take a better, more sustainable path. With pride he welcomes us, five travelling surfers on the hunt for perfect rides. We later learn that we are the first English, Irish and Swiss surfers to stay in Tupira.
I look around and the whole village is here to say, 'Hello!' Big smiles and inquisitive looks are everywhere. I can smell food being prepared for us slowly cooking in banana leaves as a band gets ready to play bamboo drums, guitars and other traditional wooden instruments I've never seen before. I take it all in, it's a sensory overload, I'm completely speechless at the beauty of it all. The genuine smiles and welcoming hand shakes from everyone. We are lead towards a traditionally built wooden thatched bungalow that will be our home for the stay, the walls are woven and the attention to detail is staggering, it's an incredible building. This is Tupira surf camp, a locally run sustainable surf project that gives back to its community. We are here to witness a surf camp with a difference. A surf camp that is leading the way, a surf camp that has learnt and adapted its management plan so that the local community see its revenue and can implement positive change. I learn that the surf camp is already paying school fees and is implementing lots of other projects that will benefit the community. This truly is the old world learning from the modern world's mistakes and now doing it properly.
The rest of our trip is spent surfing the fun right reef break out front of the surf camp with a handful of local surfers all really starting to rip on donated boards brought here by Papua New Guinea's Surfing Association's President Andy Abel. He's the brains and positive drive behind PNG's uniquely sustainable surf tourism management plan.
We travel up and down the coast in search of pumping waves. Stopping at villages all stoked to greet us. We learn how each little village is benefiting from the surf tourism model. Surfing and its unique wave searching tribe of sun kissed wanderers are seen as a blessing here. A sign of real positive change and the local people really extend a welcoming hand, full of heart and hope. It's hard not to feel a little overwhelmed by it all. I couldn't help but smile and be thankful that surfing brought me all the way to PNG.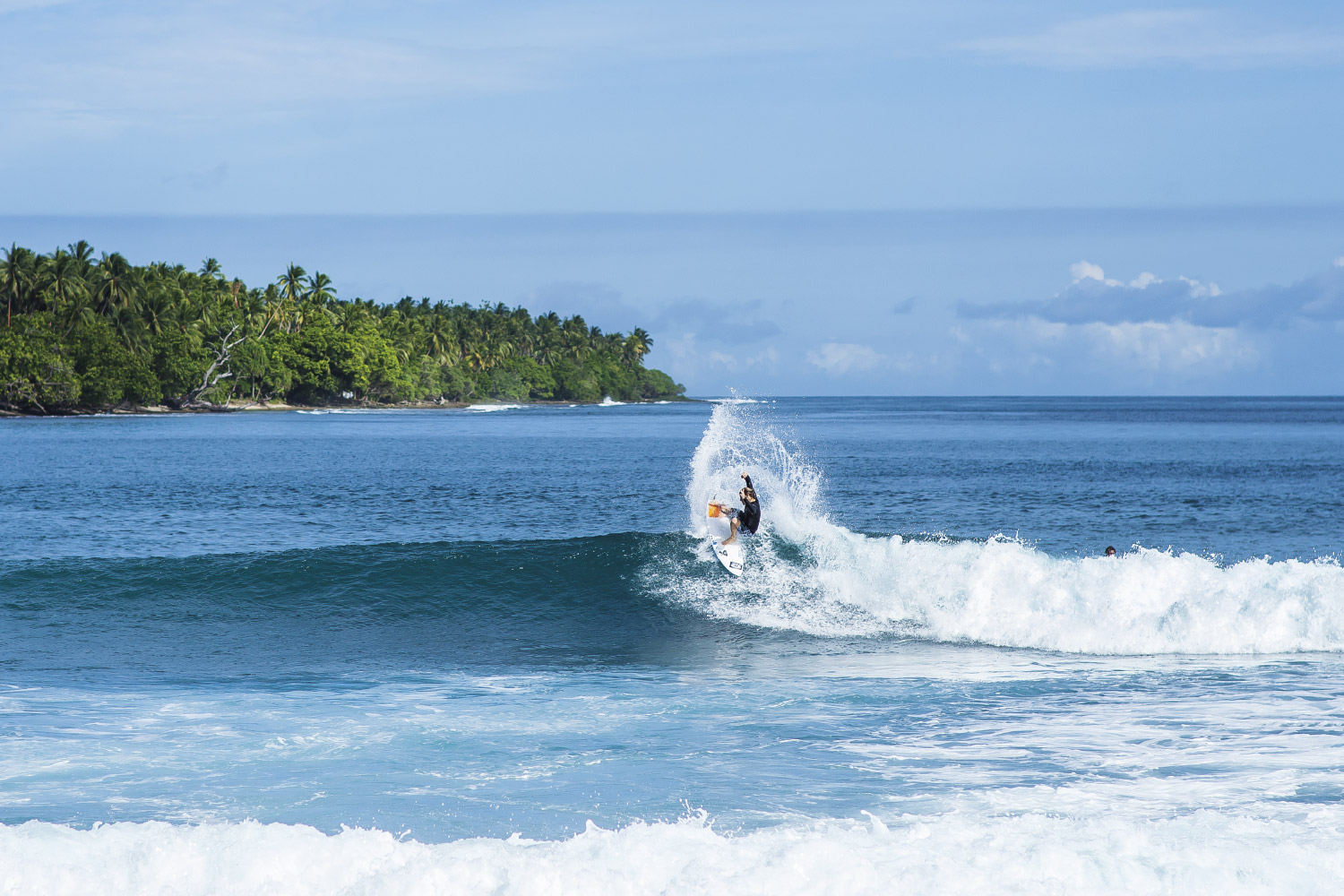 A highlight for me was surfing in a small village just north of Tupira that has multiple wave set ups from long lefts to barrelling rights. This village is also part of the surf management plan, we surf until we have nothing left and retire to the beach for fresh coconuts where we sit under the shade of palms and watch young local kids playing in the shorebreak surf on traditional wooden surfboards aptly named 'splinters'. Some of the boards even have wooden fins carved into the bottom and the kids can ride them standing up. It was so special and like watching surfing evolution all over again. Incredible stuff but we are not just here to surf we are also here to donate a huge water tank to the village so that they can collect rain water and river water for the entire village to use. The water tank is massive and takes a fair few burly locals to get it down from the truck. The village is alive with excitement and I feel honoured to be a part of something so good.
On another day at another village I witnessed forty girls get their first taste of surfing, riding donated boards painted girly pink especially for them. They were getting some top coaching from Celine and Easkey, the girls were loving every second of it you couldn't get them out of the surf. This was another one of the projects thought up and implemented by Surfing Papua New Guinea and Andy Abel to create much needed equality for women in PNG.
Papua New Guinea is stunningly beautiful and has great waves but more importantly it has great people with huge hearts and welcoming smiles.
Our time in PNG comes to an end and as we board the plane I feel strangely attached to a place and its people. Faced with modernising their traditional ways PNG is carving out a legacy all of its own and will be a blue print for surf tourism the world over.
For more info on PNG surf and sustainable surf management plan head to Surfing Association Papua New Guinea: sapng.com